Aromatherapy & Aromafacials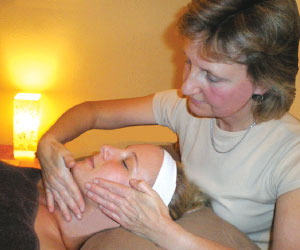 Healing Through Relaxation
A wide range of physical and stress related conditions may be helped with the holistic approach of Aromatherapy. The essential oils can be applied in a variety of ways, but treatment usually includes soft tissue and Relaxation Massage, so that the oils can be readily absorbed through the skin. Together with the inhalation benefit from the aromas, the oils can work successfully on an emotional and physical level, combining well to promote a positive state of wellbeing.
Aromamassage relaxes the body and mind, so that the client becomes aware of muscular relief and inner calmness. This gives an overall gentle but effective physiological benefit.
Treatments are based on a full case history and aromatherapy assessment and last for approximately one hour. Aromafacials cleanse, relax, tone and nourish the skin with the use of professional Aromatherapy products.